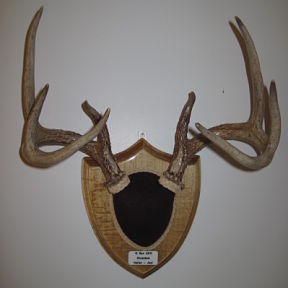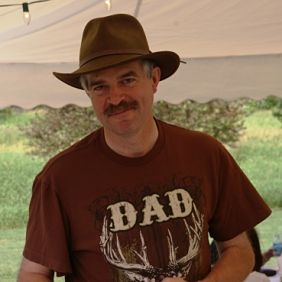 21 November 2013 - Family tally = 3 Bucks

My youngest son killed a large 1.5yr old 6pt buck with crossbow the morning of 21 Sept 2013 during Michigan's Liberty/Youth hunt. On the evening of 28 Oct 2013 just moments after pulling my crossbow up I killed a 3.5yr old 8pt buck with crossbow. And at 11am on 15 Nov I killed a 1.5yr old 8pt buck with my 12 gauge scoped Mossberg 500 which has slain many deer (although the crossbow is working on catching up.) Thus far from the Liberty Hunt until now I have made 35 deer sightings while hunting and seen 7 bucks.

I can tell you it wasn't always this way - and I can tell you I've learned how to keep working to make it even better than it is now by intentionally improving the deer habitat. So if you are more of a visual learner - as MANY of us are - and if you are willing to work hard to make things better on your hunting land - then follow the hyperlink in this post and get signed up for monthly video instruction series on improving habitat and hunting strategies geared toward HIGHLY pressured deer like we have here in Southern Michigan - the videos were filmed here in Michigan. I don't know hunter density where you live but I bet on the section (square mile) I live on there are more deer hunters than deer - seriously - that is SERIOUS high pressure - and it takes different tactics than you see on the "entertainment only" TV hunt shows filmed in extremely low pressure areas.

Hey, if you found this enjoyable or even helpful, how about liking CountryJackG on Facebook and perhaps even posting a comment. Maybe you employ other "lessen your impact" strategies - share them with us on Facebook - where more frequent updates are being made. Thanks and Happy Hunting!

Or if you want even more frequent updates follow @CountryJackG on Twitter.


2012 wrap-up - Deer Harvest Goal of 3 in the freezer accomplished once again

Due to the popularity of venison at our house we have a family goal to put 3 mature deer in the freezer each year via hunting. Praise God from whom all blessings flow we fulfilled that goal once again. 3 mature does - 2 with crossbow and one with shotgun. I teased my two youngest kids a bit about making me kill the deer - "not helping out" but they did actually hunt - though each deer I took was taken on a hunt when I offered the kids a chance to come and they both declined. So young hunters - if your Dad/Mom is offering to take you hunting don't forget if you want to get a deer you've got to put in your time on stand to get it done.

Hey, if you found this enjoyable or even helpful, how about liking CountryJackG on Facebook and perhaps even posting a comment. Maybe you employ other "lessen your impact" strategies - share them with us on Facebook - where more frequent updates are being made. Thanks and Happy Hunting!

Or if you want even more frequent updates follow @CountryJackG on Twitter.


8 September 2012 - Lowering your Impact - Move out of position stands - Shooting lanes

Lowering your impact - so you suddenly realize your stand is a bit out of position or perhaps long work hours or a LOT on the "Honey-Do" list hasn't allowed you to get shooting lanes trimmed up a couple weeks to a month or so before the season opener - what do you do? Well you make the needed correction. Don't sit there several times knowing the stand is out of position - move it. If you realize you need to trim or even cut in a shooting lane - do it. They key is to do it wisely. So how do you do that right during the hunting season? Lessen your impact by doing it in the rain or just before a good rain. And if rain isn't predicted anytime soon use a bee smoker and puff the area where you walked and touched things full of hardwood smoke to lessen your impact (assuming you hunt in an area where a number of folks heat their homes or shops with wood.) Yes it is optimal to have everything "just right" long before the opener. But yes you can move stands, put up new stands, trim shooting windows/lanes, etc. and thereby increase your chances right in the middle of the season if you find you need to and now you know (or have been reminded of) two ways to lessen your impact while doing so. Fact is my two youth hunters and I employed the "just before it rains" method yesterday evening to trim up a couple shooting lanes and cut in six new narrow ones into very dense cover around a stand site I've taken a number of deer from over the years - which this year was converted to a two-person stand site. Years of observation taught me places the deer moved through and stopped. So yesterday evening we used that observation gained knowledge and put two new shooting lanes in each of 3 directions (6 total) - so you had a "spot 'em" lane and a "shoot 'em" lane - it is that dense with all the leaves on. It was starting to sprinkle rain as we left the woods. And, praise God, from whom all blessings flow, it has been raining a slow easy rain for over 5 hours now - which is very much appreciated and very much needed here after the worst drought I have personally experienced here in Southern Michigan.

Hey, if you found this enjoyable or even helpful, how about liking CountryJackG on Facebook and perhaps even posting a comment. Maybe you employ other "lessen your impact" strategies - share them with us on Facebook - where more frequent updates are being made. Thanks and Happy Hunting!

Or if you want even more frequent updates follow @CountryJackG on Twitter.


14 July 2012 - "Micro Ambush Plots" aka "Kill Plots" - Path of Least Resistance

If you are going to put in some small kill plots in heavy cover you better have the weeds killed or get the weeds killed VERY soon (it is now 14 July). After spraying with RoundUp you need to wait at least 14 days before planting. If repetitive tilling is your mode of weed killing allow even more time. Here in Michigan the time to plant small kill plots or "micro ambush plots" is during August (time it with rain forecast that night or next day) - so they will be lush during early bow season which starts 1 Oct. If you are more of a visual learner - as MANY of us are - then follow the hyperlink in this post and get signed up for monthly video instruction series on improving habitat and hunting strategies geared toward HIGHLY pressured deer like we have here in Southern Michigan - the videos were filmed here in Michigan. I don't know hunter density where you live but I bet on the section (square mile) I live on there are 1.5-2 times as many deer hunters as there are deer - seriously - that is SERIOUS high pressure - and it takes different tactics than you see on the "entertainment only" TV hunt shows. The July 2012 videos are out now and they show you how to plant a "micro ambush plot" - you will have to be a paying member to watch those videos but "for free" you can watch over 40 minutes of video instruction showing you how one Michigander made 7 acres into buck heaven with over 100 scrapes - and another video showing you how to steer deer via hinge cutting. You certainly want to check those free videos out.

Now is a GREAT time to cut a path of least resistance. For example - several years back I shifted the entry point by about 6ft in a swale the deer approached through 3-4ft high grass. All I did was mow from where they left the nearby woods (on path) to where I wanted them to enter the swale (closer to tree I planned to hunt from). I made it easier for them to go where I wanted them to go - it is certainly easier to walk a mowed path than to push your way through 3-4ft tall grass on a deer path. In the woodlot you use the same principle - you make it easier to move where you want them to move and you make it harder to move where you don't want them to go -- put brush from cutting shooting lanes there or hinge cut trees there for example - in other words INCREASE resistance where you want them to avoid and decrease resistance where you do want them to travel. And hopefully soon I will get up some photos showing a path of least resistance or two.

For those of you on Facebook - you can "like" CountryJackG and get more frequent updates than I am managing to put up lately on my website. Or if you want even more frequent updates follow @CountryJackG on Twitter.


14 May 2012 - Sanctuary, an important key

Sanctuary areas are, in my opinion, a key to keeping deer frequently using your hunting land even during hunting season. In short a sanctuary area is an area you set as "off limits" for humans (and dogs) so that the deer have a "safe zone" right in the midst of your hunting ground. Good thick bedding cover and NEVER getting kicked off their beds by humans or dogs on a romp - a place where they can lie down and ruminate (chew their cud) without a whiff of human scent putting them on edge - that is the "sanctuary area" concept. Yes it is not only important to give them a safe place to bed down it is also important to never hunt next to the sanctuary when the wind would blow your scent into the sanctuary.

My cousin and I (over two decades ago) used to sit on the ground (tree stands weren't legal yet) for about an hour or so in the morning then we would go and do two person drives on every woodlot in walking distance which we had permission to hunt - then we would come back to our "start" spot and drive that on our way up for lunch at one or the other of our parents homes (farms around the corner from each other). After lunch we would go drive some more woodlots before heading back to our "start" spots and sitting for an hour or so until quit time. We paid ZERO attention to wind direction. -- Usually we saw VERY few deer in our "start spot" woodlot after the first two or three days of hunting that way.

I can't recall where now (though thankful to the author) but I read about the idea of setting up a sanctuary area and we started that practice. Our "start spot" woods was split by a creek so we made the creek the boundary line and on the west side of the creek we did NOT tread at all during hunting season unless we needed to pull a dead deer out of there - and if we did that we got in - got it out - field dressed it elsewhere so we minimized our invasion of the sanctuary as much as we could. And it worked. We also set up our stands on the East side of the creek so that we could get to them without kicking deer off beds on that side of the woods. And we picked it that way because of prevailing west winds that kept our scent out of our designated sanctuary area. We started seeing deer more often on both sides of the creek. It worked - and it worked well.

So if you haven't done it already - think about where you can set up a sanctuary area for the deer that frequent your hunting land - odds are if you do they will spend more time on your land because you made a safe spot for them to bed down and ruminate.


19 March 2012 - Be a woodlot "Johnny Appleseed" - trim down fawn killers - fertilize oak trees

Here are three things you can do now to make deer hunting better in your area.

Deer love apples. May I suggest that you save the apple seeds from the apples you and your family consume - then like "Johnny Appleseed" plant those seeds with hopes that in ten years or so some of them will bear apples to help draw deer more often onto the property you own/hunt/manage. I save apple cores by freezing them and don't bother to take the seeds out. After accumulating quite a few I take the bag(s) out to our woodlot, kick back the leaves where I think an apple tree might have a chance then toe jab a depression, drop in an apple core, and cover it back up with soil - then find another spot and repeat. I like to do this when it is very wet in the woods so I can more easily plant in the relatively high-dry spots mixed among the numerous temporary puddles. Spring or Fall are perfect planting times. So go be "Johnny Appleseed" in your woodlot - you can plant a LOT of apple seeds with zero extra expenditure because your food budget produces apple seeds as a waste product which you can use to make your future hunting better.

Where coyote hunting is allowed before and/or during fawn birth (and the month or two afterward) you can help cut down on fawn loss by putting hunting pressure on the coyotes in your area. Coyotes actively kill whitetail fawns - and contrary to popular belief when they work together they can even take down mature whitetails. So if you have coyotes in your deer hunting area keep them trimmed down.

Another good Spring prep activity is to fertilize some specific oak trees that are in huntable position. You can use "nut tree fertilizer spikes" around the drip line (a whole lot of them.) Or you can buy a bag of 12-12-12 or 19-19-19 and use a planting bar or something similar to poke a hole in the ground and pour in the fertilizer around the drip line. You aren't trying to fertilize every tree - just to make a few chosen trees have extra nutrients so they can grow slightly larger, sweeter acorns than the other local oaks.


20 & 21 Jan 2012 - After Deer Season Scouting - Time to invade Sanctuary - Bedding areas - Remember when snow fell

After deer season ends you have a GREAT opportunity for scouting. Where I live in Southern Michigan when the last deer season closes on 1 Jan the deer have been under hunting pressure for about 3-1/2 months since the first early antlerless season in mid-Sept. By this time the deer are pretty wary. They are also using late season food, water, and bedding areas as pressured prey animals. Basically they are ready to give away their secrets if you are willing to do some hiking. And if you bump the deer now it is many months away from hunting season so you just chalk it up to your personal continuing education - you learn from it - rather than fret about pushing them toward more nocturnal movement when you need daylight movement for a successful hunt.

I've mentioned in past posts that I don't own a trail camera. Now I'll be the first to admit I would love to have a whole bunch of those Buckeye Cam wireless units - but my budget says "it ain't happening" so I am not going to be getting my "deer intelligence" via sneaky infrared cameras snapping time stamped photos night and day. If you have the budget for trail cameras they obviously can be helpful tools but if you are like me and the old wallet just can't spare that kind of cash then don't despair because you can learn a LOT about deer movement right now just shortly after deer season closes without trail cameras.

Pay attention to when snow falls. Get out there on a "hike and learn" scouting trek AFTER a new snow. I recently did just that. It was snowing very large flake clusters until late morning. In the late afternoon I went on a daylight movement discovery hike. Any tracks with no snow in them had to be made after it stopped snowing. And tracks with a little snow in them were made sometime just before it stopped snowing. Tracks with considerable snow in them were likely made in the early morning (in this case). In other words you remember when snow was falling and how hard so it can help you determine an approximate time the deer made any deer tracks you discover.

I found that a lone large deer had feed a short while on the Imperial No Plow food plot. I could tell because a couple small areas showed snow pawed back some so the deer could get to the greenery that was buried under the new fallen snow. The tracks of that deer leading up to the food plot were crisp and had no fallen snow in them - which in this case (remembering the weather that day) meant that lone large deer ate there during daylight hours sometime after the snow stopped. Daylight movement was what I was looking for and I found it right away. I found a spot where the deer defecated - none of the deer scat "pellets" were covered with snow.
I then followed that track to see where the track making deer went after eating Imperial No Plow. I noted where it went and also noted when the lone crisp newer track joined up a trail with older tracks of several deer (snow in these tracks - probably made early morning). I now know that I need to figure out a good place to put a deer stand where deer moved by during both am and pm daylight hours.

When the deer left my property I turned off the trail and swung by a couple of my stands to see IF any deer tracks indicated daylight movement by either/both of those stands. I found no evidence of daylight movement that particular day by one stand but evidence of morning movement by another stand. I then hiked back to the house paying attention along the way. I didn't get the whole hunting area covered but after the season closes you don't have that kind of pressure to get it all done right now - you just do what you can when you can to increase your deer intelligence gathering.

After the season closes it is time to invade your Sanctuary - Bedding areas and do some scouting. A Sanctuary area is an area you do NOT enter during the hunting season (except to retrieve dead deer that fled there - as briefly as possible - just pull them out and field dress them elsewhere) so as to give the deer that frequent your hunting area a "safe zone" - a place where humans don't push them out - a place where they can feel secure when hunting pressure is high most everywhere they go. You also do not hunt upwind of your Sanctuary - because that would put human scent through the Sanctuary. ---- Well right now it is AFTER hunting season and a good 8 months before another deer season opens and there is snow on the ground. Now is time to scout out the Sanctuary - learn how deer move in and out of it - learn where they bed - maybe even do something of a deer census - look for buck rubs and sheds. Scout it well once or twice shortly after the season ends. Do any needed Sanctuary habitat improvement in this same time frame. You can hunt close to the Sanctuary as long as your scent does NOT go into the Sanctuary - so scout movement patterns to see if you can improve placement of stands next season or perhaps add a new location next season. Here are some photos of deer beds "in the thick" of one of our Sanctuary areas - it snowed the night before - I counted eight different deer tracks made inside the less than 24 hours since it had snowed. Between the 5 hunters that hunt this farm we killed eight deer this year - equal split between the sexes. That is quite a few deer to take off 120 acres in this part of Southern Michigan - yet obviously there are plenty of deer remaining since eight passed through this small area of the farm during the night and early morning previous to taking these deer bed photos.
Notice how thick the area is where they bedded down that previous night. It is seriously thick in there. And your Sanctuary area should have some real thick stuff too - good security cover - good bedding cover. Give them a place to feel safe close to where you hunt and you will have more opportunity. So invade that Sanctuary months and months before the season - then render it a "off limits" once again - except for quick removal of dead deer which were shot outside the Sanctuary but fled into it to die.

After deer season closes is also a great time to set up new stand locations - cutting shooting lanes now gives the deer months to decide the shooting lane is just a normal feature of the woods. Your human scent will have faded away months before the Season Opener.

After deer season closes is a great time to pull down all your stands, climbing sticks, any tree steps, etc. - give them a very thorough inspection and do any repair or repainting they need. Then you are ready to get them all back up (in scouted out spots OR in old standby spots) a month or more before the Season Opener whenever possible. Obviously if you can't get it done that early you do it as early as you can.
31 Dec 2011 - Happy New Year to everyone!!

Happy New Year to everyone!! May God be with, guide, protect, bless, and prosper you and yours as you strive to follow Him via following the example of His Son, Jesus Christ. May both His grace and His mercy be felt in your lives. May He draw you and yours ever nearer together and ever nearer unto God.
30 Dec 2011 - Ezine article published

Deer hunting with your kids is great! Gain some tips on making it enjoyable while reading about one of our whitetail deer hunts.
Deer Hunting With Your Kids - 9yr Old Son Calls in Nice 8pt Buck for 50yr Old Dad
17 Dec 2011 - Last Minute Gift ideas for deer hunters

As Christmas time approaches you may be wondering what to get for your deer hunter. And you are definitely running short on time to go out shopping. But since you have an internet connection you do have the option of online shopping. So what would a deer hunter like for Christmas? Many deer hunters here in Michigan that haven't already acquired a crossbow would surely like a crossbow to extend their hunting season. I personally favor the GT Flex made by Ten Point Crossbow Technologies because it is a recurve crossbow which means I can change the string myself without a bow press (and you don't get cable and pulley noise) but many people favor compound crossbows which can shoot arrows/bolts at faster speeds. The four deer put in our freezer this past year (see posts Christmas evening 2010, 10 Oct 2011, 11 Oct 2011, and 11 Nov 2011) with our GT Flex indicate that 300fps is plenty fast enough - though you can shop for up to 400fps if you wish.

Shop here for Crossbows
.

If your hunter likes to plant Food Plots then perhaps something like seed might be the perfect gift.

Shop here for Deer Food Plot seeds and supplies
.

Your deer hunter may want/need some new hunting gloves or blaze orange gear or perhaps some hunting boots.

Shop here for Deer Hunting Clothing and Footwear
.

Looking for something cheaper? Perhaps a deer call would be perfect for a gift or a stocking stuffer. Lots of different calls are out there which can make shopping really confusing - so let me give you three specific suggestions. Two of my three suggested calls are calls we field tested with GREAT results during 2011 - one of them is the H.S. Estrus Doe Bleat can for calling in an amorous buck during the rut (VERY EASY TO USE - my 9yr. old son called in a NICE 8pt for me 11 Nov 2011) and the other is a calming, feeding call named "The Kruncher" which is also made by Hunters Specialties which during one test kept a buck inside 60 yards for over 40 minutes (12 Nov 2011) - the Kruncher goes with us every hunt now. I also like the TrueTalker - having used the original True Talker for many years especially during rattling sessions to paint the sound picture of two different bucks with unique grunt tones - able to do everything from fawn distress bleats up to deep guttural dominant buck grunts with the True Talker (and practice).
.......................................
Are you shopping for a new deer hunter, youth or adult? Or perhaps your deer hunter is mourning over a lost deer? Then I suggest an educational program they can use over and over on the computer called "Shot Simulator." It allows you to shoot an arrow from every imaginable angle - as if from the ground or a tree or a pit blind - you can then peel back layer by layer and see exactly what your arrow hit and get helpful tips on follow-up to increase odds of successfully recovering your deer. Another helpful use for Shot Simulator if you make a less than optimal hit is to set it up for that shot and see what you likely hit - as well as getting expert advice on follow-up timing, etc. - that can make the difference between successful recovery even if something goes a bit awry.
How about printing Digital Hunting or other Photos Onto Canvas for a gift
......................................
Thanks for visiting CountryJackG's Deer Hunting Page - come back again soon - please share a link with all the deer hunters you know. Thanks!!
10 Dec 2011 - Cold morning hunt - Missed does cycling back in heat - Bucks eating more to replenish fat reserves - natural funnel - take your kids hunting

Very crisp cold morning, 9F with -1F wind chill, wind from WSW @ 9mph - thin blanket of new snow - sounds PERFECT for a morning hunt with my youngest daughter. Bucks should be on the move looking for does that didn't take during main rut who are cycling back now. Bucks should also be eating more to put back on some "fat reserve" weight lost during the main rut. Gotta bundle up serious good in layers but the wind is right for the stand we are going to on the Swamp to Swamp trail near standing corn. Hoping my youngest daughter is blessed with the opportunity to fill her Restricted Buck tag today. This stand sits in a natural funnel produced by a swamp to the South which the deer skirt around the edge of - several deer have been put in our freezer from this stand over the years. You don't see deer every time you sit there - but you can be sure that if you sit there often enough with the wind correct to carry your scent away from the most likely places deer will come from then you will see deer. --- Perhaps much like where you hunt we have no place that is a "sure fire see deer every hunt" sort of stand - there is so much good cover and so much good feed all around here that you can go days seeing no deer sitting on a GREAT stand (for this agricultural area) --- but we do have places that are better than others under certain conditions. And right now conditions are set so that Swamp to Swamp trail stand should be one of the best places to hunt this morning. Well I need to sign off, wake my daughter, and get ready to hunt. Thanks for visiting CountryJackG's Deer Hunting Page - come back again soon - perhaps purchase something we advertise to help support the page - and do share a link with your fellow deer hunters. Thanks!!
30 November 2011 - Take your kids hunting - ManScape by GhostBlind - "Farmer noise bump"

Take your kids hunting. Let them watch the woods wake up while they sit beside you. Let them witness with you a late Fall sunset as the fog rolls over the seasons first blanket of snow. Help them develop a watchfulness, awareness, and attentiveness that picks up the little clues that tell them deer have been here OR are likely to come here OR are coming right now. Let them take ownership in your hunts when they are too young to "be the hunter." My youngest daughter still revels in the knowledge that years ago she spotted one deer quite a spell before I could see it - she knew her sharp young eyes helped put venison on the table and in the freezer before she could be the hunter - and now several years later she put venison on the table and in the freezer herself with me (Dad) by her side - just like it should be. My youngest son revels in the fact that he called in the 198 pound 8pt I (Dad) killed this year AND that when we came back out with better flashlights to find it he found it - he took ownership in that hunt - he called the buck in - he found it after the kill - "Dad just let the arrow go." Next year he says I'm going to be his caller-man and he is going to be the hunter - just like it should be. Take your kids hunting. Let them be a REAL and active part of Nature. Let them learn to see things how they really are. Take your kids hunting.

Not long ago I won the weekly drawing at GhostBlind.com and received a Green ManScape. If you are a repeat visitor you know we test things and tell you how they work for us. Well so far the deer haven't cooperated and given us a chance to see how it works on close-up deer but we can show you some photos so you can see why we are very favorably inclined toward this product designed to break up your human form . We think that it will work well on deer - and it is just a matter of time until we find that out first hand and report back to you. We have had the Green ManScape mounted on the crossbow mostly but also on my shotgun. It was easy to put together. It is easy to install (velcro). And you can bend the leafy branches to make a sight path hole to look through. Find here an over the shoulder view showing the sight picture opening with ManScape on our crossbow. Find also a deer's eye view taken at 10am on a bright Saturday morning looking up into the tree where believe it or not my youngest daughter is sitting with the ManScape attached to our UNLOADED FOR SAFETY crossbow - can you tell it is a human behind those leaves?
I previously mentioned using a tractor to get on and off field edge locations and called it the "farmer noise bump." My youngest daughter and I used that entry technique on this evening's deer hunt. And sure enough there was a deer on the field already when we got there. Watching our tractor and trailer all it did was walk along the field edge - it never bolted - it simply walked off the field onto a neighboring yard and went no further. And all we did is drive that tractor right along the headland then right along the rows of corn stubble that lead to the indent in the brushy edge about 50 yards from our stand where we park the tractor and trailer then walk to our stand. ---- Personally I'd rather walk in - but on this particular field there isn't a safe approach that allows you to avoid bumping deer - you can bump them going in and/or coming out - so to keep them coming back to the field regularly I don't walk in as I prefer when I go to that field - instead I drive the tractor in so the deer just think some farmer thing is happening rather than become rapidly aware they are being hunted on that field they like to frequent.


25 November 2011 - Bucks are out cruising downwind of doe bedding areas - Farmer noise bump

Due to wind conditions this morning I took up a Treesuit stand location which is positioned on the North edge of a field in position to overlook most of two other fields (a good observation post stand to figure out what is happening) - I chose this spot to insure my scent was NOT blowing across any doe bedding areas or travel corridors. This morning this stand location left me overlooking a large partially tilled very recently harvested field of corn stubble with the only untilled corn stubble on the edge closest to me. Normally I don't watch feeding areas on morning hunts - that is better for an evening hunt. But I knew that human activity the day after Thanksgiving might just bump deer my way as it has before. As it turned out I had to pass on a shot opportunity on a pretty decent 8pt buck who appeared to be out cruising the downwind side of doe bedding areas. I watched him cross 100+ yards of open field from a woods to a swamp at which point I lost sight of him for about two or maybe three minutes. When I spotted him again he was crossing the 150+ yard wide field heading North and eventually put himself into shooting range of a hunter with only an antlerless tag left in his pocket. Very fun watching him nonetheless. Wish my youngest daughter had been with me - she would likely have her Restricted Tag on him if she had been.

I got on and off this stand crossing a large open field using what I call the "farmer noise bump." Deer in agricultural areas get accustomed to "farmer noise" and they don't react as badly to it as they do to "hunter noise" - so I drove in a tractor to close to where my stand was - and when I got down to head out I drove back out as well. I did this knowing that there might be deer eating corn that got missed by the combine when I went in. Bumping them off the field with a tractor is a LOT more forgivable to deer than bumping them off as a hunter walking in. So think about "farmer noise" versus "hunter noise" when you may be able to use that to your advantage as a hunter.


"doe in a can" call
worked well
during our 11 Nov 2011 field test
my 9yr old son called in a nice 8pt
which I killed with our GT Flex crossbow
23 November 2011 - 9:20pm EST - Thanksgiving morning is a GREAT time to hunt

Thanksgiving morning is a GREAT time for deer hunting. I love morning hunts and get far too few of them. It is just great to watch the woods wake up and watch the sunrise while being out there as an active part of Nature. Happy Hunting!! to all you deer hunters that are going to get out the next three mornings in a row. May your freezers be filled and may your homes be full of love, laughter, and fond memories as your hearts flow over with gratitude for the many blessings God has poured out upon you and yours.


"doe in a can" call
worked well
during our 11 Nov 2011 field test
my 9yr old son called in a nice 8pt
which I killed with our GT Flex crossbow
22 November 2011 - 3:30am EST - Late Rut period in the North - Big Bucks up and moving

Typically by this phase of the Northern Whitetail Rut approximately 80+% of the does have been bred. Bucks now have to look harder and compete more heavily for the remaining does in estrus or soon coming into estrus. So don't give up now if you've not been seeing much buck activity the past week. The Big Bucks will be scent checking doe bedding areas - so downwind of doe bedding areas as well as funnels between doe bedding areas and doe feeding areas are GREAT places to hunt right now. Be out hunting all you can (while keeping up with family duties also). Hunt safely. Send me a photo or a link to a photo of your deer. Happy Hunting!!!


Thursday evening 17 Nov 2011 - Second test confirms The Kruncher works

Saturday morning 12 Nov I got on stand late - actually after my Hunt Start Time reminder caused my phone to vibrate. I had barely gotten my safety harness on and sat down when I spotted a yearling buck standing right next to where we found the nock end of the broken arrow the night before - we had marked it with white toilet paper. The yearling buck apparently saw me move a little or something because he was looking at me from 37 yards away. Since I had the opportunity to watch this young buck I decided to test out The Kruncher (feeding call) on him. He started out wary likely having seen me turn my head his way as I had planned to range the distance from the stand to where we found the broken arrow the night before. When I had an opportunity to move a little without being seen I got in position to use The Kruncher and managed to keep this yearling buck inside of 60 yards for over 40 minutes. At one point I was able to keep him in the main shooting lane for this stand for ten solid minutes. I got him to stop after he suddenly spooked as he neared our tractor path. And he crossed the main shooting lane 5 different times during the 40 plus minutes he was under observation. --- That makes two tests of The Kruncher this season on high pressured Southern Michigan yearling whitetail bucks. Very impressive results both times. Worth a spot in our bag or pocket. We have our Kruncher mounted on the Steady Eddy attached to our GT Flex crossbow so it is always at the ready.
Kruncher call
twice on bucks during 2011
it simulates the sound of deer
eating acorns - it calms them -
it causes them to feed - kept one
buck inside 60yds for 40+ minutes
Friday evening 11 Nov 2011 - 9yr old son calls in nice 8pt for Dad

This evening my youngest son (9) and I stopped for a kneeling prayer on our lane as we headed out for a short evening hunt. By the time we got on stand and set we had under 40 minutes until the "Hunt Ends" calendar alarm would start vibrating on my phone. Not much time - some might have passed up the opportunity thinking it wasn't worth the quarter mile hike there to hunt for that short a time. Decades of experience have taught me to get out there - because you certainly won't shoot a deer if you talk yourself out of hunting when you have the opportunity. I talked to my son about 4 spots we could go to that were set up for two people. I told him one of them we should probably figure was too far away on other side of road for the time we had to hunt - so that left us with 3 options on our side of the road. He thought we should go to one of our back corners and suggested the SW corner. I told him I agreed we should go to one of our corners but due to wind direction I thought the other corner - the SE corner might be better - so we agreed to go to the SE corner. I then put my son in charge of calling. Before we went out I had let him choose between just the estrus bleat can or the whole rattling sequence. He chose to go with just the estrus bleat can. Since we got on stand with so little hunt time left we did NOT wait the typical 20-30 minutes before calling - we waited about 5 minutes - until we heard a squirrel scolding something well to the South of us (out of sight.) On stand I coached him as to when to call - how long to wait before calling again - and whether to do a single bleat or two or three bleats in a row. He did a good job painting the sound picture of an estrus doe waiting near a scrape (a mock scrape with a scent dripper over it) and calling for a buck. Daylight was fading fast when he let out his last two bleats. And then heading North off property we can't hunt came a nice buck. I failed to get into position to take a crossbow shot when he hit the first shooting lane on our property but I got into position to take a shot as he passed off our farm onto another farm we have permission to hunt. I bleated with my mouth to stop him - found him in the scope of our GT Flex crossbow - put the 30 yard reticle on top of heart area and squeezed off the shot. I heard it hit the deer but could not see where I hit. After the shot I pulled out my phone and it read 5:49pm - exactly one minute before Hunting End time. We got down and thanked the Lord then asked for His help in recovering the buck. We then tried to take advantage of the rapidly fading light but very quickly realized it would be smarter to head up to the house and get larger, more powerful flashlights than the 1Watt LED I carry. I took the opportunity at the house to get out of my ScentLok and into jeans, etc. which I wouldn't mind getting the smell of diesel exhaust and deer blood on. We prayed again for the Lord's help recovering the buck before we hiked out with 2 - two "D" cell LED MagLites and as we walked I explained to my son that often mortally wounded deer head for thick cover and water. I suggested that based on direction of travel when hit this buck would likely either head North out of the woods into the adjoining standing corn or might go NNE into the swale due to the water there. Accordingly we looked at exit points from the woods (into corn or swale) as well as scanning corn stalks for blood - we didn't find any. I suggested that perhaps he didn't get that far or he may have headed further east where there was thick cover and water inside that woodlot. We entered the woodlot and I explained that we should look everywhere on the ground as we worked our way from where we thought he was heading to where the arrow hit him because we might just find the buck before we got back to where he was hit. If we did not find him then we would have to find and then follow the blood trail. As we moved along my nine year old son suddenly looked back and off to the side and said "there he is Dad!" So this nice 8pt was called in by a 9yr old - shot by a 50yr old - then found by a 9yr old. We weighed him before and after field dressing. Before field dressing he weighed 198 lbs. After field dressing he weighed 160 lbs. We will get him in the freezer Saturday - plenty cool enough for him to hang overnight - up well out of reach of the dogs. --- Oh, my son said "Next year you're the caller man Dad!" And I will gladly be his "caller man" - I can't wait to help him tag his first deer. It was a GREAT hunt.

Praise God from whom all blessings flow!!

"doe in a can" call
worked well
during our 11 Nov 2011 field test
my 9yr old son called in a nice 8pt
which I killed with our GT Flex crossbow
6 November 2011 - Northern Rut should get serious this week

If the past accurately predicts the future then sometime this week (in Southern Michigan and nearby states) will mark the beginning of the 5-10 day period when 80% of the whitetail does will come into heat. As that starts happening many of the BIG bucks will be up and moving - at any time of day (including mid-day). My advice is simple - spend as much time as possible on stand - particularly BETWEEN doe bedding areas when it is not feeding time and at doe feeding areas when it is feeding time. Listen for the repetitive grunts of bucks on the track of a hot doe. When you hear that coming in your direction BE READY, stop the buck where you have a clear shot (estrus bleat can, whistle, etc.), aim for top of heart (aim small, miss small), make a good clean shot, and follow through. I would like to see photos.
Thursday evening 3 November 2011 - Seeking stage of Rut - Mid-day hunts - Mock Scrapes

Numerous hunters in the area are seeing younger bucks attempting to chase yet disinterested does. Haven't seen nor heard reports of the really big bucks yet. So it appears we are yet in the Seeking Stage of the Rut here in Southern Michigan.

Mid-day hunts can be productive - and this is especially true during the rut. Deer try to avoid hunters - generally they are pretty clever at it - after all they are full-time prey animals while we are merely part-time hunters. One simple way for deer to avoid 95+% of hunters and still get a chance to eat is to get up and eat AFTER the hunters go home after their morning hunt then get back bedded down before they come back for their evening hunt. Some hunters that aren't into getting out before the crack of dawn will just wait and go in at 9-10am and then sit through the 11am - 2pm mid-day movement period when most hunters aren't out hunting. By doing this they are all set up and ready when the "leave for lunch" crowd bumps deer on the way out to lunch and then again when they come back to their stand after lunch. Going in late rather than early is better than bumping deer on the way in before dawn. If you bump them you are teaching them to avoid you. Gotta get in and out without bumping deer.

Yesterday I didn't get a chance to hunt (car repair work took precedence) but after dark I did don my ScentLok and rubber boots and went out and made several Mock Scrapes. I used a small metal child size rake to rake the leaves/debris/etc. away down to bare soil (approx. 12" x 18" typical up to 24" x 24") under an overhanging branch about 4-5 ft off the ground along the edge of trails or shooting lane/trail intersections. I then misted the bare soil with Tink's Power Scrape. Two of the Mock Scrapes also got a Scent Dripper set up over them - also charged with Tink's Power Scrape. Generally not every mock scrape gets used but some do - so you freshen up the ones the deer like and use. ---- Other scrape starter scents can be used and "believe it or not" even human urine will work to start a mock scrape or to freshen up an existing scrape - no kidding.
Wednesday evening 19 Oct 2011 - Soil Test before planting - here's why

I grew up on a small farm in Ingham County, Michigan. I now own a small farm in Lenawee County, Michigan. I know you should do a soil test BEFORE you plant. But I started feeling pushed for time as August slipped by and though I own a soil test kit I didn't test either of the two small plots I planted to Imperial No Plow in late August. These two small plots are less than 100 yards apart - both in a power line right of way so they get good sunlight. But look at the difference. My guess is that the stunted plot area probably very seriously needs lime - but that is just a guess - I should have soil tested BEFORE I planted and made the necessary soil amendments prior to planting so that both plot areas did equally well. I knew better but didn't act on what I knew - that was silly of me - and because of it I have one small plot of Imperial No Plow doing well and another that isn't doing any good at all - for want of a soil test followed up by soil amendment. So if you didn't grow up on a farm but are interested in food plots to give nutritional support to your local deer herd - learn from these photos - YES you really should test the soil BEFORE you plant a food plot and then make the needful soil amendments. It can literally make ALL the difference in success and failure of your food plot. And yes I have seen deer munching on the "doing well" plot of Imperial No Plow already and it has a pretty serious trail beat right along its East edge - a spot that doesn't typically have a deer trail.

We've seen deer eating
on the
Imperial No Plow
plot
and they have a path beat down next to it
where there typically is no deer path.
Friday evening 14 Oct 2011 - Two in the freezer - windy cold forecast

By God's grace and via hunting we now have two deer in the freezer. I am very happy about that as a meat hunter. Praise God from whom all blessings flow!! Scroll down to see a photo of my youngest daughters first ever deer - taken Tuesday 11 Oct 2011 with our GT Flex crossbow made by TenPoint Crossbow Technologies.

The weather forecast for the morning shows a wind chill of 38F with 24mph winds from the West. Showers up until shortly before hunt start time. Not ideal weather but I reckon we will still put in a Saturday morning hunt since that is the only morning we have to hunt.

Tuesday evening 11 Oct 2011 - Youngest daughter takes first deer ever!!

As my youngest daughter was deciding what stand we should hunt this evening (after her soccer practice) she related that when she mentally looked toward our SE corner stand she had a good feeling - it went away when she mentally looked toward other locations - it returned when she mentally looked back at SE corner - so there we went - arriving with about one hour of hunting time left on the clock. Close around 7pm I caught a flash of movement in the thick which rapidly became discernible as a deer - a young buck. My daughter soon noted there was more than one - two young bucks. When one of them entered a shooting lane it turned and started toward us. She took a quartering toward shot with the crossbow at about 20 yards and made a PERFECT top of the heart shot. The arrow/bolt went clear inside the 5pt buck - which is where we found it when we field dressed him. I am VERY happy for her. And she is elated. My youngest daughter was shooting a 100gr 3-bladed RAGE tipped Red Hot crossbow arrow/bolt launched from our GT Flex crossbow (Ten Point Crossbow Technologies.) Praise God from whom all blessings flow!!

Monday evening 10 Oct 2011 - First deer of the season

Following a spark of inspiration on where to go I tagged my first deer of the Michigan 2011 Archery Deer Season this evening. From approx. 20 yards I double lunged a mature doe with a 100gr 3-bladed RAGE tipped Red Hot crossbow arrow/bolt launched from my GT Flex crossbow (Ten Point Crossbow Technologies.) Praise God from whom all blessings flow!!

Thursday evening 6 Oct 2011 - Week End Wish

I am hoping that my youngest daughter gets the opportunity Friday evening or Saturday to take her first deer. That would totally make my day. I would love it if she manages to take a deer this year before I do. Here's hoping your youth hunters get plenty of opportunity and can calm their nerves enough to make a good shot. Both my youngest daughter and my youngest son have been practicing with the crossbow from 20-50 yards. And since we hunt on our land and nearby neighbors we make every "uncock the crossbow" event into a confidence building practice shot. For safety's sake we ALWAYS put the broadhead tipped arrow/bolt in the quiver BEFORE lowering crossbow out of the stand we were hunting. Then when we get back to the house we put a field point tipped arrow/bolt in place and take a practice shot at our bag target. Gotta let it down - may as well get some practice.

Kids learn quickly from computer animations like "Shot Simulator." "Shot Simulator" teaches where to shoot, how long to wait after the shot, etc.. It is also useful after you take a less than perfect shot - so you can see what you hit inside the deer and get expert advice on follow up. You can purchase either a Deluxe CD Version or a Downloadable version here - Deer & Deer Hunting Shot Simulator
.

28 September 2011 - "Prioritizing your hunting locations" (article by John Eberhart - Michigan)

"Opening Day Caution" - Bill Winke via Cabela's Whitetail Watch

26 September 2011 - Food Plot Photos

Thought you might like to see a couple whitetail deer food plot photos taken 24 Sept 2011 here in Southern Michigan.

21 September 2011 - Trail Cam strategy tips - Shot Simulator

CountryJackG doesn't own a trail cam. As a meat hunter since 1975 I haven't yet chosen to invest time and money into trail cams. I look for movement patterns that get followed year after year. I look for natural funnels that concentrate deer movement through a smaller area - could be a swamp they skirt - a opening in a fence - an easier place to cross a creek - etc.. I pay attention to changes in food sources being used. That is what helps fill my freezer with venison here in a HIGHLY pressured whitetail hunting area. But if I were to take up serious trophy hunting then trail cams would definitely be a tool I would acquire and use. The tips in this video may prove helpful to those of you who hunt trophy bucks or just want to try trail cams to see what bucks there are on your hunting property. Enjoy.

"Finding Killable Bucks" - trail cam strategies

I've mentioned this a few times lately and hate to be repetitive. Kids learn quick from computer animations like "Shot Simulator" which teaches them where to shoot, how long to wait after the shot, etc.. You can purchase either a Deluxe CD Version or a Downloadable version here - Deer & Deer Hunting Shot Simulator
.

17 September 2011 - "The Kruncher" feeding call first impression - Whitetail Institute No Plow - Shot Simulator

"The Kruncher" is a feeding call - which simulates the sound of a deer eating acorns - I got my first chance to try it out on a live wild high pressure Southern Michigan whitetail deer 15 Sept 2011. The weather has been perfect thus far for Michigan's Early Antlerless Deer Season which opened 15 Sept 2011. On the evening of the 15th I was out with my youngest daughter who is hunting for her second season under Michigan's Apprentice Hunter Program. The Jackson, Michigan Chapter of Whitetails Unlimited picked up the tab for her Antlerless Deer license - thank you - what a great way to encourage youth hunting - BRAVO!! I spotted a deer in the thick - just a brief glimpse of a spot of deer fur. I immediately turned to my daughter and whispered - there's a deer coming in - you want to switch places? And we switched spots on the two man ladder stand and I handed her the 6pt GT Flex crossbow shooting Red Hot carbon bolts tipped with 3-bladed 100gr RAGE broadheads. The deer was oblivious to our presence just feeding its way along so it was a spell before it finally stepped out of the thick and into one of our shooting lanes out about 45-50 yards away. It stopped almost perfectly broadside BUT was a 1-1/2 yr. old 7 or 8pt buck with a nicely shaped but thin and narrow basket rack (good for his young age) rather than the large doe we were hoping for to supply meat for the freezer during Early Antlerless Season. So we watched the buck move on up closer, cross two more shooting lanes and then when he stood in the 3rd shooting lane where I could clearly see his reaction I started working "The Kruncher" call behind the cover of our blind's skirt (cover). The buck did not get the least alarmed whether I worked it fast and hard or easy and slow. He moved easy out of the shooting lane and I worked the Kruncher some more and could see his head pop up every now and again indicating he had been feeding then looking up and around. Eventually he came back into the shooting lane at which point he looked directly up at us and then did get alarmed a little and trotted off. I worked the Kruncher as he trotted off but he was then in such leafy thick cover I could not see him though it did sound like he dropped out of the trot and stopped probably inside of 50 yards. Didn't see him again. So first test of the Kruncher call gave me a favorable impression. This buck presented 5 different shot opportunities during the 5-10 minutes he was inside of my youngest daughter's 50 yard "shoot with confidence zone" with the crossbow.

Promotional video for "The Kruncher"

I am pleased to report that the Whitetail Institute No Plow seed has germinated well both out in the tilled full sunlight areas and also in the partial to full shade areas in the woods. Having planted it very late for this area (early Sept) it will be interesting to see if it gets to a point where it can help provide nutritional benefit to the area deer, wild turkey, etc.. You can purchase No Plow and other Whitetail Institute seed offerings here - Deer Food Plot seeds and supplies
"Country Jack" recommends "Shot Simulator" to teach and learn where to shoot, how long to wait after the shot, etc. and you can purchase either a Deluxe CD Version or a Downloadable version here - Deer & Deer Hunting Shot Simulator
.

Happy Hunting,

"Country Jack" Griffes

We field tested this
Kruncher call
twice on bucks during 2011
it simulates the sound of deer
eating acorns - it calms them -
it causes them to feed - kept one
buck inside 60yds for 40+ minutes
10 September 2011 - Work stand sites in the rain - Whitetail Institute - Shot Simulator

When it is lightly raining outside is an EXCELLENT time to set up stand sites. When cutting shooting lanes, setting up ground blinds or tree stands you can't help but touch lots of vegetation which is going to hold your scent during good weather potentially for days worth of detection by an animal with the scent detection prowess of the whitetail deer. You can wear scent trapping clothing - and you can wear it out as well. You can wear your regular work clothes and use hardwood smoke (see previous post) or you can do the work during a light rain. By doing the stand site work during the rain your scent gets washed away as you apply it - helping to insure that you haven't helped the deer pattern and avoid you before you ever get on stand to hunt. Use the rain to help you and you will start looking at those rainy days as opportunities to set up new stand locations - even during the season after observations suggest a need to move a little (or a lot) to be in better position.

I watched the Whitetail Institute video "Producing TROPHY WHITETAILS with Whitetail Institute products Vol. 8" earlier this week. I am VERY impressed with Whitetail Institute's extensive research program which includes a plant breeding program geared toward whitetail deer specifically. I emphatically agree with their emphasis on the need for soil testing and amending to maximize plot potential. I have planted two full sunlight plots and two limited sunlight plots inside the woods to Whitetail Institute's Imperial No Plow and the recent rains should have helped it germinate. You can purchase No Plow and other Whitetail Institute seed offerings here - Deer Food Plot seeds and supplies
So how do you learn or teach others (like kids or grand-kids) where to aim when hunting the fabulous Whitetail Deer? May I suggest doing it via a computer program which allows you to set your shot angle (ground or tree stand - deer facing any direction you choose) and point of aim then shows you exactly where your arrow would go. You can peel away layers and see what you would hit with that point of aim from that angle. The program is called "Shot Simulator" and you can purchase either a Deluxe CD Version or a Downloadable version here - Deer & Deer Hunting Shot Simulator
. Shot Simulator also helps you, your kids or grand-kids learn about what you should do with different type hits - time to wait, etc. - because unfortunately even the best shooting hunter can end up with a poor hit for a wide variety of reasons and it is the hunter's responsibility to do all that legally can be done to bring that game to bag if hit. After a poor hit you could also use the program to assess what you hit and how you should proceed trying to recover the animal.

Happy Hunting,

"Country Jack" Griffes


Deer Food Plot seeds and supplies
// Crossbows
// Archery Products
// Deer Hunting Clothing and Footwear
27 Aug 2011 - Scent Control via hardwood smoke - Fall Food Plots - Shooting Lanes

When you go in to work on stand locations it really is a GOOD idea to control your scent. Why let the deer pattern you before you ever start hunting? When you are doing hard, sweaty work controlling your scent isn't easy by commonly used methods (scent trapping clothing, scent killing sprays, typical cover scents). But there is a pretty easy way to control scent which is not commonly used or even recognized - applying hardwood smoke via a bee smoker (one company markets a competitively priced bee smoker under the name "Scent Smoker" but literally all you need is a good bee smoker, some hardwood chainsaw chips or planer shavings, a bit of newspaper and a match or lighter to get it started - it may work but let me assure you that you don't need a propane torch to get a smoker started - see video below). Smoke yourself all over before you go in and smoke the area before you leave and that will minimize your impact - reduce the chance of getting you patterned - and get it done pretty easily without needing to wear out or mess up your scent controlling hunting clothes. --- Click here to read about my first ever "close encounter" using smoke as a cover scent on Thursday 25 Oct 2007. More close encounters have followed - I HIGHLY recommend hardwood smoke as an easy to use, economical, and effective cover scent.

How to light a bee smoker so it stays lit

While deciding what to plant in my two food plot expansion areas I looked back at Rusty's Mixture and decided to give Imperial No Plow a try since Rusty saw it get "ate to the ground" at his location (indicating HIGH draw power). I bought a 9lb package of Imperial No Plow locally for about $36-. It contains Dwarf Essex and Sterling Rapeseed (an oil seed plant - one variety of which is known as Canola) along with Alex Berseem, Yucchi Arrowleaf, and Dixie Crimson clovers plus Gulf Annual Ryegrass (a MAJOR component in this mix @ 25.57%). I planted the two food plot expansion areas I have been repeatedly tilling using a small hand held plastic crank handle John Deere 4-Season Spreader (about $22- locally). I found that a setting of 2 was about perfect with this little JD broadcast spreader. I walked at a good pace longways on the plot with only slight overlap then did the same crosswise over entire plot area a second time. I recommend setting your planter to plant about half the seed on your first set of planting passes which cover entire plot area then do a second set of planting passes perpendicular to your original direction to help insure better, more complete coverage when seeding by the broadcast method. Using a broadcast spreader definitely helps with consistency as compared to the original broadcast seeding method of tossing seed by hand - but it can be done simply by hand tossing the seed - though it is very hard to get even coverage without a LOT of practice. Since our larger old shoulder strap hand crank broadcast spreader has seen its better years it was time to retire it. The little JD spreader has a lot less capacity but worked great for spreading the small Imperial No Plow seeds over fairly small areas.

I used the remainder of the Imperial No Plow seed to plant around a couple of two person stands in our woodlot - these areas got ZERO tillage - so they will test out how well it really germinates with no tillage. (Some of the seed is coated - which should help retain moisture and aid germination.) I also seeded the grassy tractor trail in between these two stands which are nearly 100 yards apart. And I opened up some better shooting lanes from one of those stands. Then to minimize my lingering scent I fired up my bee smoker and smoked down the area where I was cutting shooting lanes (with quiet hand pruning tools) - also where I had seeded inside the woods and the entire trail I followed in and out. Hardwood smoke in an area where many people heat with wood is a common smell to deer - they don't seem to be able to discern human scent through it (which is amazing but that is what it looks like based on observations I've made while hunting). Smoke leaves solid scent particles clinging to foliage, clothing, etc.. Hardwood smoke is also a GREAT and easy to use cover scent - at least where wood burning for heat is common - I can't tell you from my own experience if it works in areas where deer aren't used to the smell of smoke from wood burners - though some claim it works everywhere.

Now we just need a good rain to get the seed going. I can hardly wait to see how the tilled and untilled areas work out.
Happy Hunting,

"Country Jack" Griffes


Deer Food Plot seeds and supplies
// Crossbows
// Archery Products
// Deer Hunting Clothing and Footwear
20 Aug 2011

Currently our food plot areas here in Lenawee County, Michigan are in wet areas where our concern is planting seeds which are either annual plants capable of making their growth during a very short growing season (short due to seasonal flooding forcing late planting) OR perennial plants that are both highly palatable to deer/turkey PLUS able to handle wet feet and seasonal flooding. My food plot objective is "year round nutritional support." If the local farmers till under crop residues that could have helped wildlife have an easier winter - the food plots remain standing for herd/flock nutritional support even through the winter (just paw through snow for access - and they do when they need/want to.)

This early morning I'm sharing with you a tip that doesn't have current application for me personally. This is a tip for food plots in higher, drier areas - areas where you don't get reliable rain - areas where your planting timing may not mesh with reliable rain to support germination and early growth. This tip comes in the way of a video about a type of moisture holding gel that has been used for years in certain types of agriculture and which Hunter's Specialties is now offering for easy food plot application via sprayer in a bag size more suited to food plot use. Check it out.
Vita Rack Moisture Trap by Hunter's Specialties
Happy Hunting,

"Country Jack" Griffes


Deer Food Plot seeds and supplies
// Crossbows
// Archery Products
// Deer Hunting Clothing and Footwear
17 Aug 2011

My deer hunting tip for today is: Practice, Practice, Practice. Make sure your sights or optics are zeroed well before the hunt opener. Make sure you are very familiar with your equipment by means of lots of practice sessions. Practice sessions don't have to be long. You usually get just one shot opportunity at a time while hunting - so be ready to turn that opportunity into meat in your freezer. Practicing with my two youngest kids I often tell them - "you have to make a kill zone hit - if you make it on the first shot you are done at that yardage" - then I let them pick what yardage we shoot from. I worried at first they would always pick 20 yards but they don't - they switch it up OR go for longer range challenges. Other times I'll say "tonight it is two kill zone hits in a row." For my kids that motivates concentration on making good first shots during the practice session - since a good first shot is the objective when hunting.

The six shot group in the photo below was shot by me this evening under good light with just a slight breeze from kneeling position using the Steady Eddy on my 6pt GT Flex crossbow at its 180-lb pull setting. While it looks like a group fired from a single yardage it actually is two shots from 30 yards (middle crosshair), two shots at 40 yards (bottom crosshair), and two shots at 50 yards (where the upright post goes from thick to thin). That group tells me I have my scope well zeroed. It also confirms that my "almost every night" practice sessions have been paying off. Take a look.
6pt GT Flex crossbow video by TenPoint Crossbow Technologies
Steady Eddy video - a GREAT accessory from TenPoint Crossbow Technologies
Happy Hunting,

"Country Jack" Griffes


Deer Food Plot seeds and supplies
// Crossbows
// Archery Products
// Deer Hunting Clothing and Footwear
6 Aug 2011

To double their size - a couple weeks back I mowed down the high grass near two small food plots and begin the work of repetitively tilling these areas to break up the sod and get them fit for broadcast seeding. I suspect I will have to till each area at least 2 or 3 more times before the soil is ready and the grass is defeated without the use of herbicides. One area is very wet so it will likely be going into Haman Farms "Junkyard" Birdsfoot Trefoil. The other area is a bit higher and drier so I may put it into the original Griffes - Neil whitetail deer food plot recipe. What we plant will also depend upon how soon we can get the grass defeated without herbicides and the soil fit for planting. It will also depend upon the outlook for rain needed during the early stages of growth.

If you start your deer hunting in September as we do then I hope you are well along into practicing your shooting with the weapon or weapons you intend to use. Do your sighting in off a steady rest - but be sure to practice offhand and improvised rest positions likely to be used in actual hunting situations. When checking 50 yard zero of the Charles Daly 2-7x Widefield scope on my shotgun on 3 Aug 2011 I found it to be "right on" putting two consecutive slugs touching each other and very near target center. Moved up closer and did a bunch of offhand shooting with a couple different .22LR rifles afterward to get in practice shooting offhand for a whole lot cheaper - while also being a whole lot easier on my shoulder. Following the "Aim small! - Miss small!" principle a couple of friends and I shot various small reactive targets with the .22LR doing the same from 25 yards.
I am becoming increasingly convinced that, where legal, the crossbow is very possibly the ULTIMATE young youth deer hunting weapon - allowing them a rested position - no recoil to discourage sufficient practice - and with AccuDraw they can even reset the crossbow themselves under watchful parental supervision. My nine year old son is doing very well off our monopod with the GT Flex crossbow shooting Red Hot crossbow arrows (aka "bolts"). At various yardages my nine year old son will shoot first then I shoot next with all the pressure on knowing if I don't make as good a shot as he just did then I will never live it down. Here's photos of 35 yards, then 40 yards, then 50 yards.
Happy Hunting,

"Country Jack" Griffes


Deer Food Plot seeds and supplies
// Crossbows
// Archery Products
// Deer Hunting Clothing and Footwear
8 July 2011
Watch as a few friends and I literally shoot holes in claims still made in the Sportsman's Guide (SG) Fall 2011 Shooter's catalog. In a nutshell, their "Large Bore Shooting Tree" is "defective by design" and SG has known it for well over a year yet continues to run the same FALSE CLAIMS in their mail order catalogs. Be sure to share it with your friends so they don't get suckered by SG.


Yours for truthful claims in mail order and online catalogs,

"Country Jack" Griffes
ShopDeerHunting.com
// Deer Food Plot seeds and supplies
// Crossbows